Bio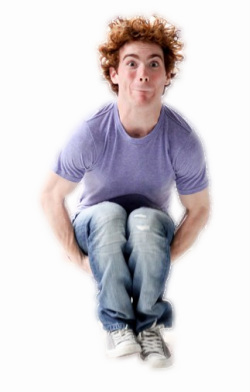 Matt began acting in a self-constructed theatre he built in his basement. For years, he and his older brother performed, directed, and designed high quality productions - at least as high quality as theatre can be with no budget, two actors, and curtains made from bed sheets. Nonetheless, Matt displayed his versatility as an actor in the Steele Theatre, performing as everything from men to women... From children to animals... From the Devil to Madonna (the pop icon, not the Virgin Mary.)

Matt performed with community theatre companies and in his high school plays before attending New York University as a Drama major at the prestigious Tisch School of the Arts. There, he studied musical theatre under CAP21 and acting for the screen with Stonestreet Studios.

Following graduation, Matt was one of 22 musical theatre majors from across the country selected to perform in the Broadway Rising Stars concert at New York City's Town Hall on Broadway. His performance was noted in reviews as one of the evening's highlights. Critics emphasized his unique personality, stage presence, and ability to entertain the 1,500 seat house. David Finkle of The Huffington Post said, "The prize for all-round entertainer goes to Matt Steele, who knew exactly how to wring every laugh and tear from Chicago's 'Mr. Cellophane.' Interesting how he made a song about not being noticed into an example of how to be noticed absolutely." Shortly after the concert, Matt was cast in the national tour of TheatreworksUSA's Duck for President.

Matt recently moved to Los Angeles to see what the West Coast has to offer. Some of his favorite Los Angeles credits include the role of Collin in Lifetime Movie Network's Dark Desire and Puck in A Midsummer Night's Dream at the Lillian Theatre in Hollywood.

Matt is often recognized for his original web series The Doomsday Diaries, in which he filmed a comedic video every day for an entire year, counting down the days until the Mayan Apocalypse. Matt's work on The Doomsday Diaries received international media acclaim and was reviewed in various publications and social media outlets such as the Village Voice, The Huffington Post, jezebel.com, and broadwayworld.com.

In addition to acting, Matt is the author of several plays which have been performed across North America and are available for production from various dramatic publishing companies. He completed a minor in African American Studies, enjoys playing the violin, and loves watching awards shows on television. Matt prides himself on the fact that he can recite every Best Supporting Actress Academy Award winner.
---

"[Matt Steele] impersonates every Best Supporting Actress winner in history from Gale Sondergaard to Octavia Spencer. And he does them brilliantly..."


- Michael Musto
The Village Voice





"And what joy Matt Steele brings to the much-beloved Snoopy, a dog who lives in his rich imagination chasing 'The Red Baron' as he fearlessly dances on top of his red doghouse. But it is his final number, the riotous 'Suppertime,' in which Steele shines as he jazz dances up a storm."


- Shari Barrett
Broadway World


"The character known as Tobias was played so fantastically by Matt Steele that his innocents turned dark will absolutely amaze you. His vital energy and childlike persona will warm your heart and eventually scare you out of your wits by the end."


- Lorenzo Marchessi
The Geek Authority


"The prize for all-round entertainer goes to Matt Steele, who knew exactly how to wring every laugh and tear from Chicago's 'Mr. Cellophane.' Interesting how he made a song about not being noticed into an example of how to be noticed absolutely."

- David Finkle
The Huffington Post


"Matt Steele's Tom Sawyer was everything Mark Twain meant him to be..."


- Ed Wismer
Ocean City Sentinel







"Matt Steele demonstrated his skill with 'Mr. Cellophane' from 'Chicago,' convincingly delineating the sad character everyone habitually overlooks. But there was no overlooking of the talented Steele."


- William Wolf
Wolf Entertainment Guide